About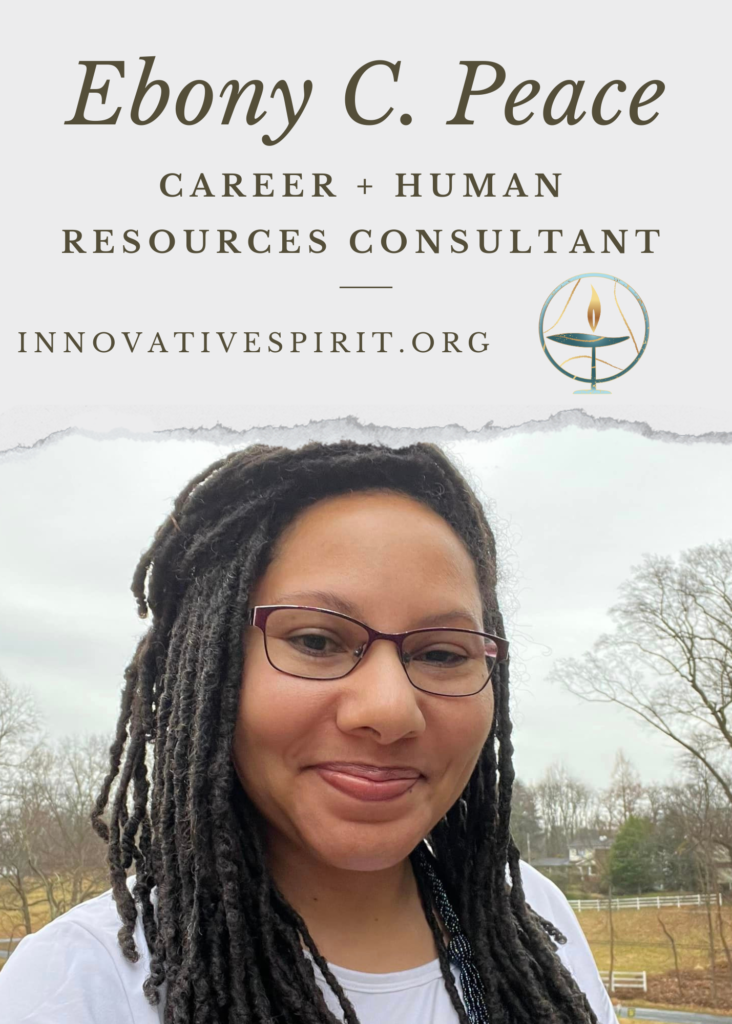 Innovative Spirit helps empower small progressive organizations and self-motivated individuals to achieve their workplace and career goals with self-care and love.
As a teacher at heart, I have provided consulting and advisory services my whole career. I am passionate about helping organizations and people leverage their strengths, enjoy their work, and be the best they can be – so that the whole world benefits from their success.
My journey started almost 20 years ago when I attended Sweet Briar College – a woman's college on 2,840 acres in the foothills of the Blue Ridge Mountains. Their core curriculum centered on preparing women to lead. Before I started college that fall, I took two summer courses: one in Human Resource Management and the other in Sociology at the University of Maryland College Park.
During college I completed multiple internships in human resources management including one at a law firm helping employees win against corporate employers who violated employment laws. During this time, I also began learning about career management and resumes from my school's career center.
They called me their "poster child" because I always attended their career workshops when they were offered. Often, because the school only had 750 students at the time, I'd be the only person in attendance. This also meant I received a LOT of 1:1 attention from their experts in the Career Services department.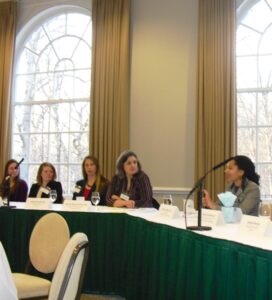 I got so great at crafting resumes and understanding how to get job opportunities, that I started helping my friends. My friends became successful and started handing out my number.
I got phone calls from people I didn't even know – asking me to help them with their career goals, find a job, an internship, or otherwise "fix" their resume.
Years later, I was honored to be invited by my college to speak on an expert panel of distinguished alumni to offer career advice to current students.
From 2004-2007, I built up clientele purely from referrals. I also volunteered my services through the Mount Jezreel Baptist Church's JEM – Jezreel Employment Ministry.
At this time, I knew I had something special going on. I loved what I did and felt deeply fulfilled whenever someone I worked with achieved their goals. I can't tell you how awesome it feels when someone gets the boost to their income that they've been praying for, or they get out of an abusive job situation into an environment that treats them like they matter.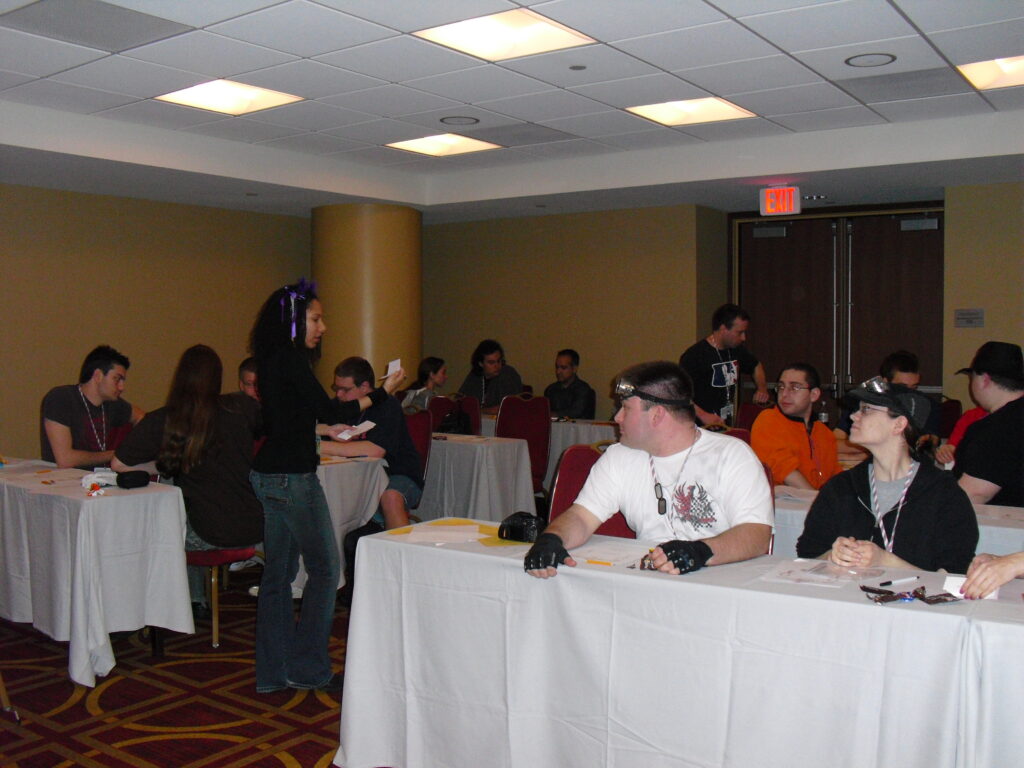 In 2008, I formally started my first private practice which I called Eidolon Career Solutions. I was known as The Career Architect™. For the next 11 years I worked mostly with those experiencing unique barriers to the workplace such as the LGBTQ+ community, "Goths, Geeks, and Freaks", and other marginalized groups.
I spoke at conferences, anime conventions, and more. I also put on my own workshops in person for my clients and the general public.
I was invited by the state of Maryland to provide my expertise in helping to craft and implement ideas when the federal Carl D. Perkins Career and Technical Education Improvement Act in 2006 was reauthorized in 2019/2020.
During this time, I received multiple career management related certifications and credentials. I was featured in the Washington City Paper: Work Is Hell – Washington City Paper because of my expertise and success with helping not just marginalized job seekers, but job seekers in unconventional careers. I also received certification as a Professional in Human Resources (PHR) in 2009, upgrading to a Senior Professional in Human Resources (SPHR) in 2015.
It takes extra effort and expertise to help those with additional layers of unique obstacles. I have been proud and blessed to be able to support others in this way.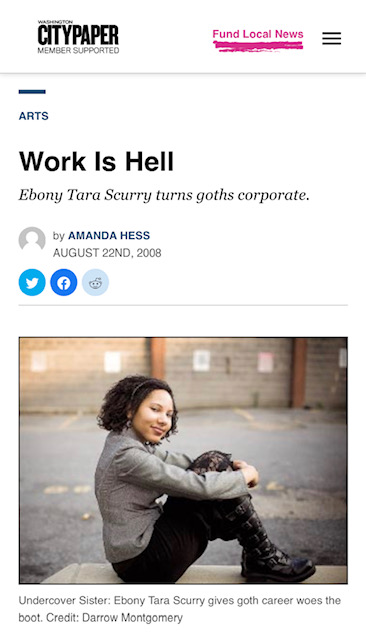 In 2019, I opened up a wellness sanctuary in Wheaton, Maryland, where I provided career facilitation and resume services for almost three years. Here, I also supervised a staff of other wellness professionals and gave a business building workshop to the Wheaton Chamber of Commerce.
After three years of operating the wellness sanctuary which averaged a 4-star rating on Yelp, I let it go after re-prioritizing my life and giving myself space to experiment with other opportunities. During this time, I still continued to serve my private career consulting and HR clients.
Then, I shifted gears by working in the federal government as a Chief Learning Officer (CLO). I oversaw the learning of over 3,000 employees while providing support in diversity, inclusion, procurement, and organizational effectiveness.
I also graduated from Meadville Lombard Theological School with a master's in leadership studies focusing on the theory and practice of leadership in non-profit, people (not profit) driven organizations, and (2) Spiritually grounded social and organizational change. I completed my seminary internship at All Souls Unitarian, DC.
Now, I am living my BEST career life with my portfolio career as a clinical sociologist serving as the Director of Human Resources at a progressive non-profit, supporting my private practice clients with their resumes and career, and as a Lay Community Minister at Sunstone Chapel, my other private practice ministry.
At Sunstone Chapel, I focus on guest preaching and faith based congregational enrichment. By faith based, I'm talking about liberal, inclusive progressive faith – far from conservative.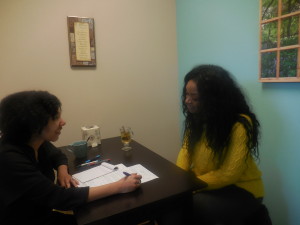 It's from this perspective – the connection between my faith and professional background that brings me to spiritual entrepreneurship. I am filled with optimism and joy at the many ways Innovative Spirit will be of service.
Some of my Qualifications and Experience include:
Master of Arts in Leadership Studies (Meadville Lombard Theological School)
Master of Science in Strategic Human Resources and Organization Development (Johns Hopkins University)
Bachelor of Arts in Sociology (Sweet Briar College), Law & Society minor
Clinical Sociologist and college instructor of Sociology
Certified Career Services Provider (CCSP)
Certified Global Career Development Facilitator (Instructor)
Former Chief Learning Officer in the Federal Government
Experience as a Director of Human Resources
Diversity, Equity, Inclusion, and Accessibility Strategist (Inclusive Workplace Culture Specialist training via SHRM)
Recipient of The Charles Billings Prize in Preaching
Lay Community Minister at Sunstone Chapel
Former President of the Maryland Career Development Association
Diversity, Equity, and Inclusion in the Workplace Certificate (University of South Florida)
PhD level continuing education in Organizational Leadership (Univ. MD Eastern Shore) and Sociology (Howard Univ)
Supervisory experience and experience training supervisors how to supervise
Published Author (newsletters, anthologies)
Awarded as one of the top 10 out of 49 full and part-time faculty to receive the highest Faculty Evaluation scores by students; received 5.98/6.0 March 2011 term for Business Ethics course
18+ years' experience in human resources overseeing and administering full-cycle recruitment, compensation, benefits, employee engagement, employee relations, training, leadership development, and organizational effectiveness
Presented at multiple conferences such as but not limited to UUA General Assembly, National Career Development Annual Conference, Maryland Career Development Annual Conference, Anime conventions, National Association of African Americans in Human Resources (NAAAHR), Raising The Bar workforce development conference, Paint Branch Unitarian Universalist Women's Retreat
Member of National Career Development Association (NCDA), Association for Applied & Clinical Sociology (AACS), Society for Human Resources Management, and The Unitarian Universalist Society for Community Ministries (UUSCM)
WHO I SERVE*
(1) Mid-level, historically excluded people  seeking purpose driven careers and interested in growing their leadership skills and income
(2) Progressive organizations seeking interim, project, or contract-based human resources and strategic advisory support that align with their values (Ex: nonprofits, academia, federal).
(3) Communities seeking a motivational event speaker on topics such as career management, marketing, and leading and caring for your people.
MISSION
The mission of Innovative Spirit is to empower small progressive organizations and self-motivated individuals to achieve their workplace and career goals with self-care and love.
I believe everyone has a life's purpose and we and our communities are enriched when do what makes us come alive. 
As a women and minority owned small business, Innovative Spirit is honored to do its part to make the world a more just, compassionate, and welcoming place through service. 
CAREER CONSULTING

I focus on the tangible, technical, and holistic aspects of following one's career calling.
I focus on clarifying what someone is called to do at this moment in their life and helping them lean into it with self-care, confidence, and support. I do this through my signature process within my Holistic Resume Optimizer Program that includes self-introspection, resume updating, cover letter creation, reference letters, negotiating salary, and more.
I focus on connecting next steps with a client's overall life's purpose and career calling – not just on a short-term goal.

INVITATIONS
(1) Looking for an interim leader? Do you need executive support for your program or organization? Visit my HR + Strategy Consulting page for details, or reach out using the contact form on the bottom right so we can discuss your needs.
(2) Please join my email list for opportunities and resources that empower you to achieve your workplace and career goals with self-care and love.
(3) Come hang out with me and like-minded folks in my Facebook Group, Innovative Spirit: Where Liberal-minded Job Seekers Achieve.
(4) Check out my full service offerings for individuals. You'll learn more about my #LoveCareerFreedom and #LoveRemoteFreedom programs. You'll also learn the benefits and details on how to schedule a Solopreneur Business Building Marketing Mentorship call with me. 
In the spirit of Mahatma Ghandi, may we "be the change we wish to see in the world".
Yours, in Service
Ebony C. Peace
Career & Human Resources Consultant, Innovative Spirit